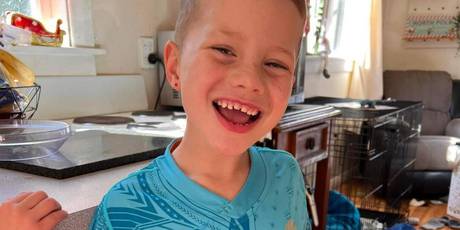 Paxton Leofo was killed in a motor vehicle accident in Upper Hutt on Monday. Photo / Supplied
The five-year-old boy killed in a "freak motor vehicle accident" in Upper Hutt has been named by family as Paxton 'Pacca' Leofo.
Police were called to the residential property in Kaitoke, Upper Hutt, shortly after 6pm on Monday but tragically Leofo died at the scene.
The death was referred to the coroner, and police are focused on supporting the family during this time.
A family spokesperson who was present at the time of the accident told the Herald Leofo was "a delightful chap", who was passionate about rugby and always ready to play with his cousins and brother.
"He was indestructible. He played rugby and he had no fear – he was the kid swinging from the jungle gym by his toes. He had no fear."
The grief that has consumed the family is immense – but the spokesperson was touched by the outpouring of love from the Upper Hutt community, saying it has been amazing.
"The church called and asked how many people to expect and honestly I'm thinking hundreds."
The funeral will be a chance to celebrate Leofo, who had just started school and to dance to his favourite music.
"There won't be any black. It's all about colour and what he danced to. He will never be forgotten, we have our photos but more importantly we have our memories."